---

BE READY WITH CASE IH CANADA
Agricultural Farming Equipment Built to Deliver Efficiency and Power through Agronomic Design
Case IH is a global leader in agricultural farming equipment. With headquarters in the United States, Case IH has a network of more than 4,900 dealers and distributors that operates in over 160 countries. Case IH represents more than 175 years of industry experience. Case IH is recognized today as a global leader in powerful, reliable and highly efficient equipment that helps professional farmers meet the challenges of modern farming.
Case IH's mission is to support you as you grow food, fiber and fuel for the world. We bring you innovative products and market leading technology and agricultural solutions and services to increase productivity. We take on challenges for you. We make life easier for you. We provide you with peace of mind. That's what we do.
Case IH is committed to collaborating with its customers to develop the most powerful, productive, reliable equipment - designed to meet today's agricultural challenges - like feeding an expanding global population on less land, meeting ever-changing government regulations and managing input costs.
CUSTOMER DRIVEN DESIGN
PRODUCTS PRODUCED BY PRODUCERS FOR PRODUCERS
At Case IH, our customers are working directly with our design engineers to develop, improve and innovate red equipment, and help growers meet today's agricultural challenges - like feeding a growing population, less available land and government mandates - while still earning a decent return. Our Customer Driven Product Design (CDPD) Process is the first and most critical step in the Case IH Global Product Design Process. We ask customers to tell us exactly what they need from a piece of equipment.
Throughout the design and development process, we bring customers back to touch base, check on our progress to help us ensure we're on the right track, and eventually field-test prototypes. The CDPD process is responsible for countless Case IH product features and innovations designed to keep farmers moving, comfortable and in the field longer - features like the new MultiControl Armrest on the next generation Steiger, Magnum and Puma tractors, which brings 80% of the functions you use all day, every day at your fingertips.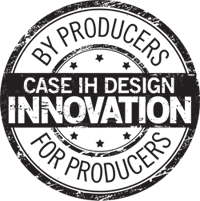 History
Case IH is a brand of CNH Industrial (NYSE: CNHI), a majority-owned subsidiary of Fiat Group (FIA: MI). Case IH has powered agriculture for more than 170 years. It began in 1842, when Jerome Increase Case founded Case in Racine, WI to build threshing machines. About the same time, Cyrus McCormick invented the mechanical reaper, and formed McCormick Harvester Company in 1847 in Chicago. His firm became International Harvester in 1902. In 1923, International Harvester introduced the first Farmall tractor. In 1985 Case acquired selected assets of International Harvester's agricultural equipment operations, making Case IH the second largest agricultural equipment manufacturer in North America. In 1999, Case IH became part of CNH.