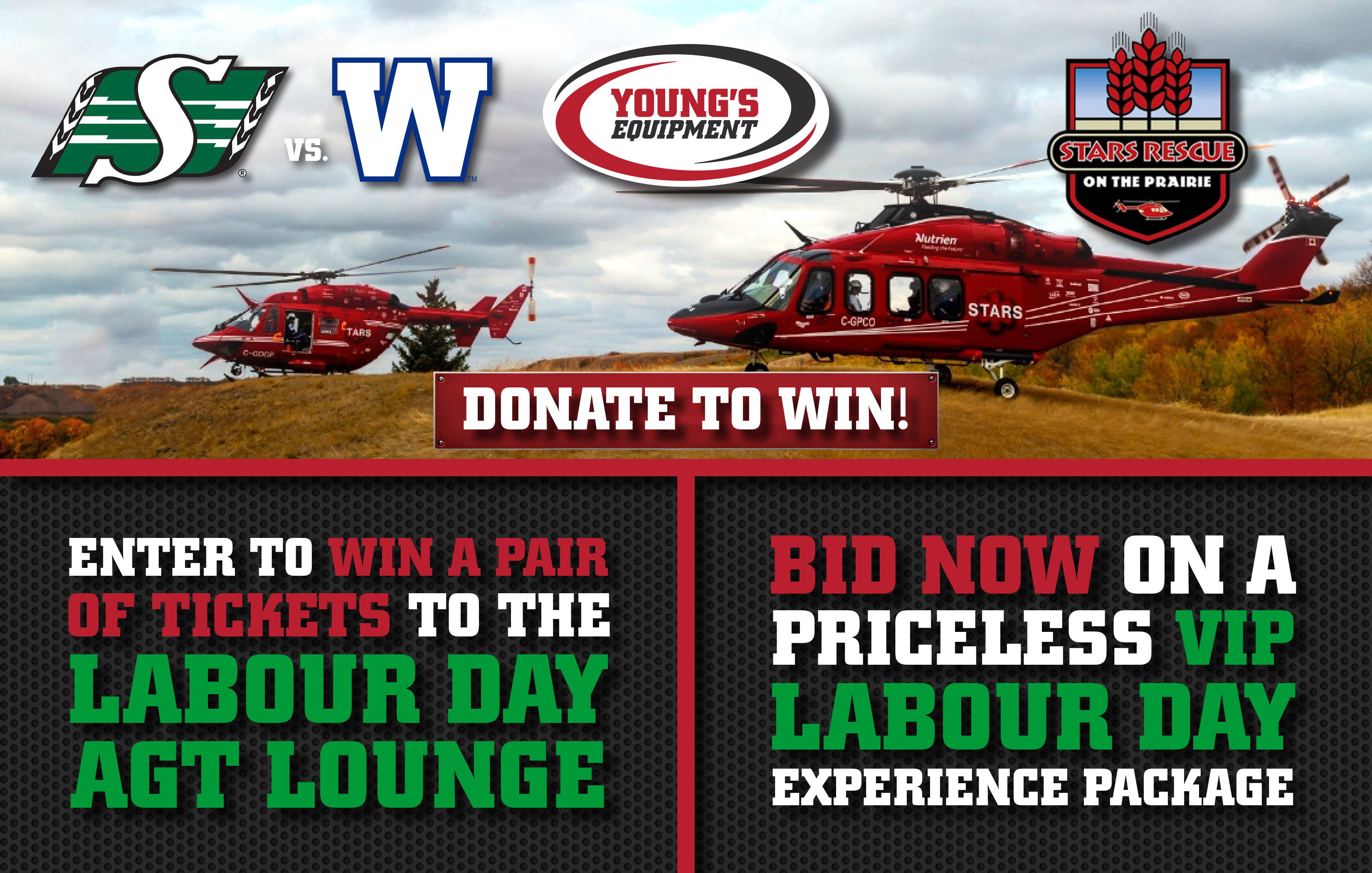 Young's Equipment Inc. has a strong and long-standing partnership with STARS Air Ambulance. This partnership is founded on a mutual commitment to rural Saskatchewan, and a deep respect for the crucial, often life-saving, service which STARS provides to the communities where our customers, employees, and families live, work, and play. Because of this partnership and respect, I have agreed to participate in STARS' 2019 Rescue on the Prairie.
The Rescue on the Prairie event is one that will see me dropped off in a remote location on Thursday, September 5th, and I'll only be brought back if I'm able to raise enough money in support of STARS. Luckily, we're allowed to start raising money in advance of the event, as I'm going to have my work cut out for me!
As part of my fundraising efforts, I've decided to take advantage of our relationship with the Saskatchewan Roughriders in order to offer some unique and exciting incentives to donate, centered around one of the most exciting weekends of the football season:
The Labour Day Classic between the Riders and Bombers on September 1st!
First, for anyone who donates before noon on Monday, August 26th, 2019, your name will be entered into a draw for a pair of tickets in the AGT Lounge. For those not familiar with this area of the stadium, the AGT Lounge is the Riders' Premium Club Seating area. With a first-class view of the game from comfortable plush seats, a complimentary premium buffet and non-alcoholic beverages, and an exclusive VIP entrance, the AGT Lounge is a dynamic environment, perfect for enjoying an enhanced game-day experience with your family and friends. Donations can be made through my personal Rescue on the Prairie donation page, a click on the following button will lead you directly there.
The second option provides an opportunity for a priceless VIP Labour Day experience. This package includes $250.00 in merchandise vouchers for the Rider Store, exclusive VIP Pregame Sideline Passes, including the opening kick-off, and 2 suite tickets for the game, including food and beverages. We will be auctioning this package off to the highest bidder, with all proceeds going to STARS. Bids can be made by commenting on the post on Young's Equipment's Facebook page, or by e-mailing us your bid. Please click the button below to do that. Any questions or requests for more details can also be forwarded by e-mail. Bidding closes at noon on Monday, August 26th, 2019, and will receive a tax receipt for the amount of the bid.
This email address is being protected from spambots. You need JavaScript enabled to view it.
Please feel free to forward this e-mail to any family, friends, or co-workers you feel may be interested, and thank you in advance to everyone for your support and donations. The generosity and kindness of Saskatchewan people truly make this province the best place to live, raise a family, and do business, so thank you once again,
Sean Young
Assistant General Manager
Young's Equipment Inc.